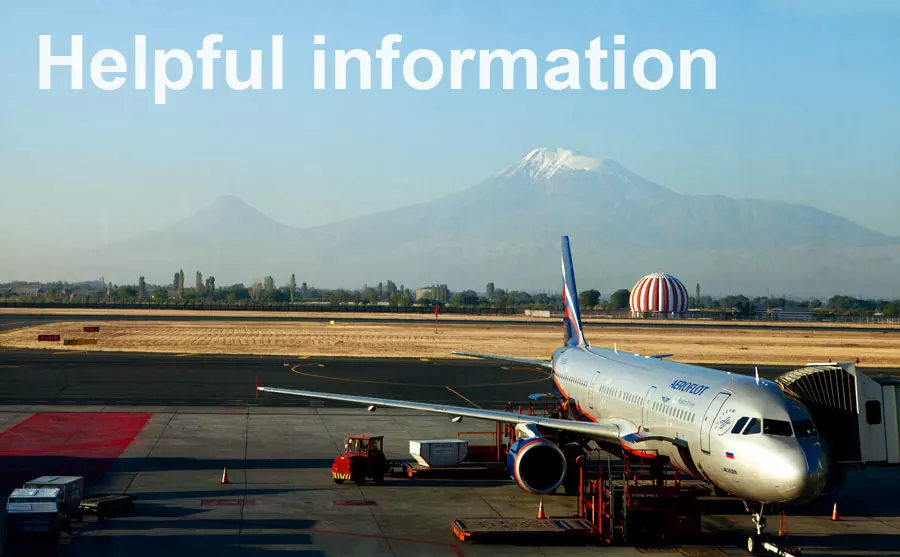 Brief information about Armenia:
Area of ??the country: 29,743km + about 4000km -Artsakh
Population: about 3 million people.
State structure: presidential republic
Capital: Yerevan
Number of regions: 10 – Aragatsotn region, Ararat region, Armavir region, Gegharkunik region, Lori region, Kotayk region, Shirak region, Syunik region, Vayots Dzor region and Tavush region
Number of cities: 48 cities
Borders: in the east and south-east borders with Azerbaijan, in the south – with Iran, in the south-west – with the Autonomous Republic of Nakhijevan, in the west – with Turkey, in the north with Georgia. The Republic of Armenia has no access to the sea.
Climate: Armenia is dominated by continental (hot summer and cold winter) and temperate climate (moderate summer and moderate winter)
Average temperature: in the plains, the average temperature in January is -5°С, in July – + 25°С; in the mountains the average temperature of January is -12°С, in July – + 20°С.
The number of sunny days per year: reaches up to 300.
Language: Armenian
Currency: Armenian dram (the current rate to the dollar…)
Religion: Armenian Apostolic Church
Time: GMT + 4
Phone code: +374
Domain: .am
Currency exchange
National currency is dram (AMD). In shops and other trade points, trade is carried out only by the national currency; dram.
Foreign currency can be exchanged with drams in exchange offices and branches of numerous banks. Money exchange services are also available at the reception of some hotels.
Exchange offices are open almost round-the-clock, but the banks are open until 5 pm.
A small amount can be exchanged on arrival at Zvartnots International Airport, and the remaining funds in any bank or exchanger already in the city at a more favorable rate.
You should not rely on credit cards and traveler's checks. They can be paid mainly only in Yerevan in large shopping centers, restaurants and hotels.
Yerevan
One can easily navigate in Yerevan, even if for the first time and have no guide or even a map. It is unlikely to get lost in Yerevan. The city is small (excluding the neighborhood and distant areas), the center consists of a ring road and streets that cross it. All of them are full of vehicles; minibuses, buses and taxis. But you can do without any transport, because the distances are small. In addition, even if you are lost, you can always stop someone passing-by and be sure that they will almost brings you to where you want. The benefit of the Russian language is that everyone knows it. Yerevan can also be safely considered one of the safest cities in the world. Late at night, you can walk with more confidence than in many European cities during the day time.
Language
The national language is Armenian. But almost the whole population is fluent in Russian. Problems can arise only in the most remote villages, but not always. In Yerevan, they also know English, French, mostly young people. The older generation mostly doesn't know English, so sometimes when a foreign tourist addresses to them, for example, in English, they answer, but in Russian, believing that if a tourist does not know Armenian, then he should know Russian. There is no language barrier in Armenia.
Transport
Fixed-route taxis go one after another, without pauses, just raise your hand as if you catch a car, stop the right number of bus (f.e. N45) and pay 100 drams; you will go where you want to. It is also very convenient to use the underground. However, it is easier to use taxis, which are numerous in Yerevan. Yerevan taxies are highly available – both in terms of calling and payment. Average cost is from 600 to 1000 drams (from 80 to 140 rubles). There is a very convenient application for smart phones; gg-taxi, which will help you to order a taxi quickly from anywhere in Yerevan.
Food
You can eat anywhere. Wherever you are in the city, you can safely assume that within a radius of 100 meters you can find a snack bar, cafe or restaurant. Well, if you are in the center, then this radius narrows to 10 m. Here you can find any cuisine: Armenian, Arab, Georgian, European, and Chinese. Prices can vary significantly. But in general, having a good dinner in Yerevan, you will pay much less than in Moscow.
Tip
Waiters in cafes and restaurants and attendants in hotels expect tips from their visitors and guests. Tipping is standard at your convenience, usually 10%. In Armenia in many places the tip is already included in the bill.
Water
Water can be bought in any grocery store; all brands are of Armenian origin. And you can drink tap water as well; it is absolutely harmless and even tasty. And, in Yerevan, you can see drinking fountains that Armenians call "pulpulak"; a little structure with a meter of height, from which the stream comes out; pure, transparent, tasty Armenian water. Come and have a dip. It is absolutely free.
Living conditions in hotels in Armenia
The majority of sockets in the hotels are two-pin sockets. The voltage in the network is 220 V. Cleanliness in hotels is maintained at the highest level.
Medicine in Armenia
It is not necessary to be vaccinated before going to Armenia. There are vaccinations needed.
Armenia is a mountainous country, so in summer the sun is especially ruthless here. Especially it concerns the people with light skin, who can get a sunburn. Before traveling to this country, take care of sunscreen. Be sure to wear hats to avoid heatstroke, and use sunglasses.
National characteristics of Armenians
As we know from books and films, Armenians are oriental people, who can be too emotional. In fact, the people of Armenia differ from other being proud and even harsh. They are extremely hospitable, will not refuse help and advise, will help the visitor confused in unfamiliar realities, will not argue others opinion, perfectly understanding, that everyone has the right to think differently.
There are almost no beggars on the streets of Armenian cities. No one bothers travelers, they do not beg for money, do not ask for charity. However, this does not mean that all Armenians are rich. There are also poor people, but they are eager to earn money by hard work. All people are well-disposed towards each other.
If you are invited to a family feast, you will be able to get acquainted with Armenian traditions. All generations gather at one table, from grandparents to grandchildren. Small children are allowed to have common dinners and suppers. They behave quietly and respectfully, listen to what the elders say and learn ancient customs. One of those customs is the art of saying and listening to toasts.
Telephone and Internet connection
Roaming in Armenia works perfectly. But in Armenia mobile communication is very inexpensive, so in order to save money we recommend to buy a local phone numebr and your calls for both domestic and international will cost you much cheaper.
The city has a lot of points where there is free WiFi. Almost in every restaurant or cafe you can always ask for a password to connect to the Internet. Also, the Internet works in many stops and public transport, as well as in the underground. Also, 3G and 4G work perfectly.
Emergency Calls
Fire Department – 101
Police – 102
First Aid – 103
Airport – 187
Railway help – 184
Information Service – 109
Weather forecast – 186