It is worth to have a separate gastronomic tour to get acquanted with Armenian cuisine; one of the oldest cuisines in the world. According to experts, it is the oldest in the region, preserves its own heritage for centuries, product using tradition, preparation methods and storing, serving of some notable dishes. This makes it quite recognizable and distinguishes it from other national cuisines.

Armenian feast begins with lavash – thin Armenian lavash, which serves as a plate, tablecloth, napkin, fork, spoon, garnish, main dish: they wrap in it, cover and scoop, place under dishes and on dishes. Visi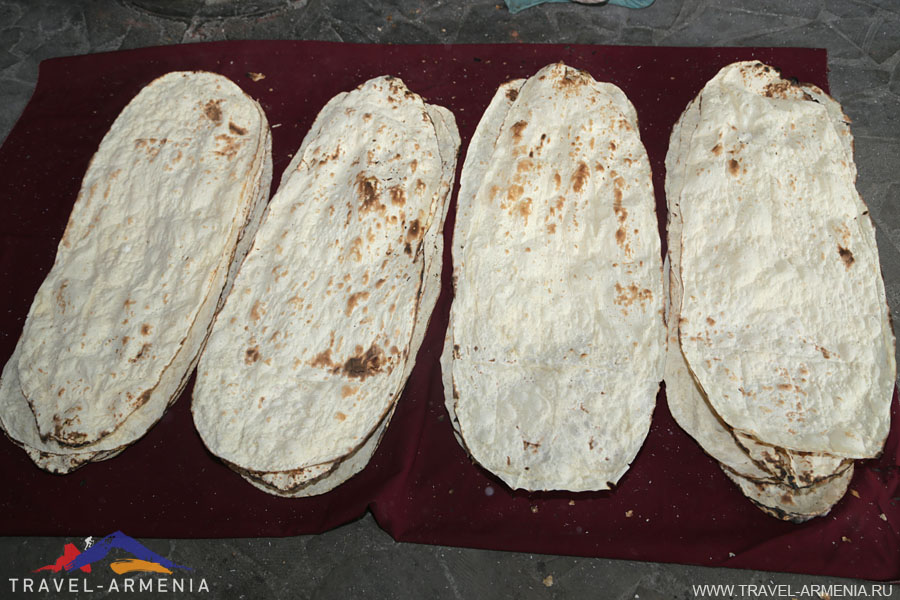 t Armenia and avoid lavash is impossible.
On the table there will necessarily be cheese and greens. Armenian cheese and Armenian greens. Plentyfullness of herbs, generously smelling cheeses – chanakh, motal, horats cheese, endless threads of chechil. You should take lavash, put on it any cheese that you like and add greens on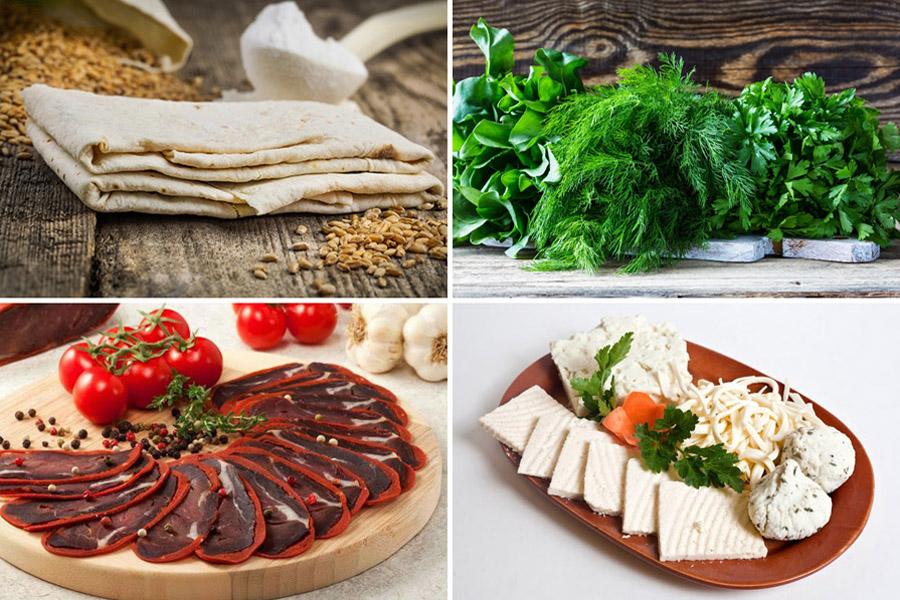 top of it, screw-in and enjoy. It is called brtuch. And now, with brtuch in you hand, you can calmly read the menu.
Perhaps, the most famous dish in Armenian cuisine is dolma. You can easily find dolma and all the variety of species outside Armenia. What is most worth to try on the s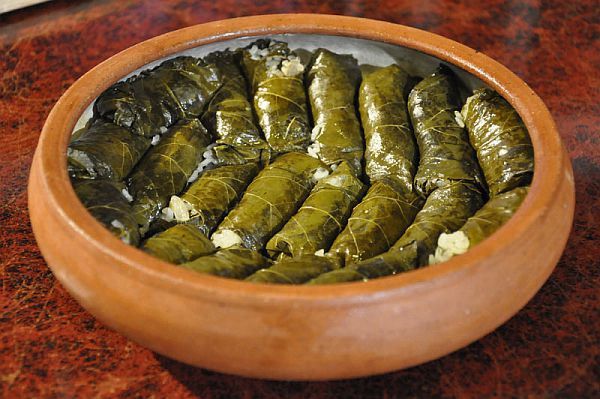 pot is pasuts dolma: soured cabbage leaves stuffed with a mixture of lentils, beans, wheat and chick-peas.
Legumes and cereal grains have large share in the national cuisine of Armenians. In particular, from steamed groat they prepare Harisa. Very popular here, emmer, called here հachar. Rare unsweetened Armenian dishes, with no herbs, which is surprising, because the local cuisine is reach of dishes with wild herbs and greens. It is certainly worth to try aveluk, horse sorrel: juicy leaves are weaved into long braids and dried in the sun, and then fried,
boiled and stewed.
But the real green feast is zhengyalov hats, the business card/visiting card of the cuisine of Syunik and Artsakh. This flat cake is filled with a twenty two various herbs, some of which grow exclusively in the mountain regions of Armenia.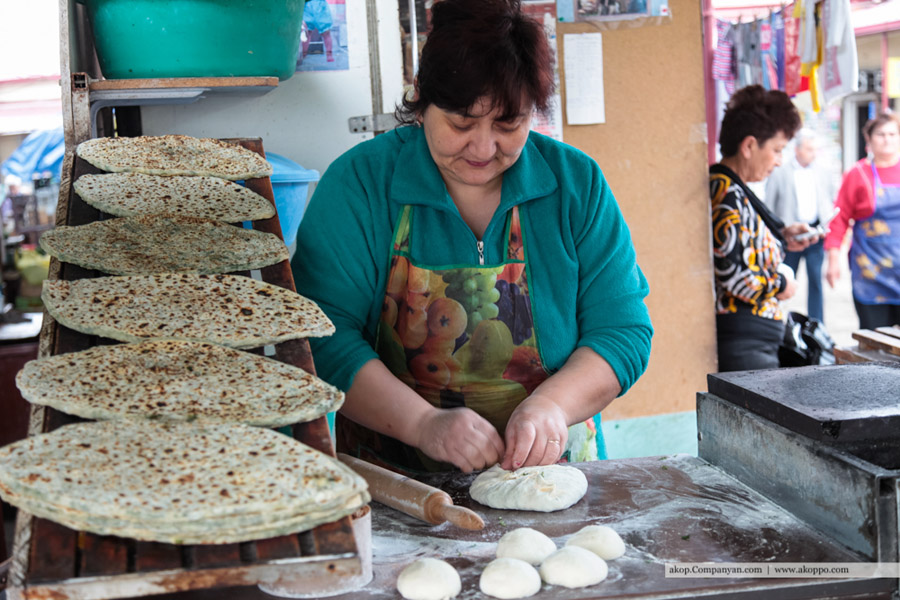 One more flat cake, but this time with meat – lahmajo; thin crispy dough with a spicy filling. Once this popular dish was brought to Armenia by repatriates from Aleppo.
Today, you can try other popular dishes of Arab cuisine due to the new wave of Armenians – settlers from Syria.
If one can eat zhengyalov hats and lamajos on the spot, between excursions, then what we have next for our program is completely different and you will need to be seriously prepared before and you will need a good sleep after. Khash! A rich broth, capable to heal the one who is sick and to knock out the one who is healthy. As tradition, they it is in the morning, in the cold season or high in the mountains in the summer. Indispensable attributes of the ritual are garlic, lavash and good company.
There is another traditional Armenian dish called "spas"; a matsun soup with greens and cereals. Very light and all-weather soup: eaten cold in summers and hot in winters.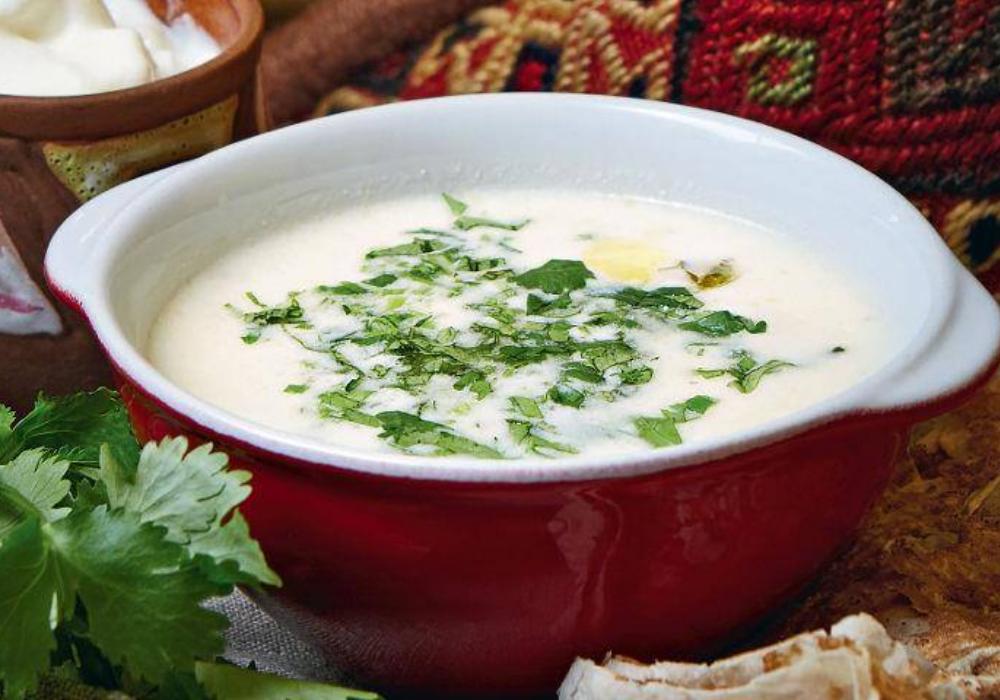 It is hard to imagine even a short introductory course of Armenian cuisine.
Sevan trout is called "ishkhan". Different types of it are traditionally cooked in various ways: boiled, baked, and roasted. And the kebab made from Sevan crayfish is incredible!
There are many dishes in Armenian cuisine worth to taste. Made of meat, chopped or roasted: kufta, like an air soufflé; kololik – kind of meatballs stuffed with bulgur; garni yarakh  – eggplants, stuffed with meat.
Armenian sweets are also diverse. However, only fruits are enough: generous sun and a long season give a fragrant and diverse yield. The Armenian apricot, which became the country "brand" long ago. One cannot visit Armenia and not try gata? This is not just a traditional pastry, but also the pride of every housewife. Recipes are passed from generation to generation, sometimes with patterns that characterize a particular family.
What about pakhlava of forty layers! And donuts, famous Yerevan donuts! And yakhli/yahli – Gyumri yakhli! And jam, how one can be without jam from walnut or mulberry! And dried fruits, stuffed with nuts and spices! During the season it is a must to try cornel sweet soup.
People with strong spirit and stomach in addition to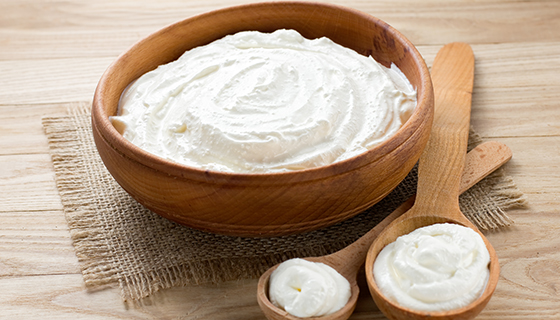 all above mentioned, will try scrambled eggs and tomatoes: "omelette with tomato". But you can just take coffee if you have already tried mulberry vodka or local wine. If still your stomach is capable to receive some liquid, try a jug of tan, a light drink made from matsun. Order an omelette with tomatoes as soon as tomorrow morning. Bon Appétit!